Restaurant Seefeldstub'n
Ajouter aux favoris
Welcome to the Seefeldstube. The excellent selection of local and international delicacies is particularly lovingly cared for here. In addition, in a decently rustic ambience without frills, you can enjoy good home cooking at a high level. Exquisite quality in the products used, care and love in the preparation as well as the proverbial hospitality in the service are always to inspire you `` s new for our house. A well-stocked wine selection with a focus on Austria complements the culinary pleasure. Open only in winter!
Lire la suite
OùStöcklfeld 336365 Kirchberg in Tirol
Vous pouvez nous trouver sur ces itinéraires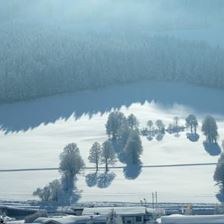 Brixental Cross-Country Ski Trail
The Brixental cross-country ski trail, for both classic and skating styles, connects the villages of Brixen, Kirchberg and Westendorf.
Facile
Durée3:30h

Distance17,9km

Altitude227m

Point culminant851m
Voir les détails