Winter hiking Waidring - Genussladen Seibl - Waidring
Note
Start at the center and walk along the road "Dorfstraße" towards the distillery Brandtner. Here you take the winterwalking path on the left hand side until you reach the "Auergasse" where you cross the main road. Take again the walking path on the left towards "Genussladen Seibl". Visit the distillery, the shop or have a snack there.
From the Genussladen Seibl / Enthgrieß you can take the free bus to the center of Waidring or you walk:
Take the same way back until the crossing "Stöcklweg". Don't cross the main road there! Go left until "Mühlau", follow the signs "Winterwanderweg" and turn right. Go along the "Schredergasse" until the big right turn and follow the signs "Winterwanderweg" again. At the end of the winter walking path take the underpass to cross the main road and go along the "Hintergasse" back to the center of Waidring.

Informations
geräumter, gewalzter Winterwanderweg
Öffentliche Busverbindung nach Waidring.
Kostenloser Regiobus innerhalb der Region und des Dorfes!
Altitude profile
Refreshments
Distillery Seibl - "Der Genussladen"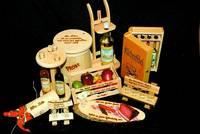 Show details