Herrgott - Gebrakapelle St.Daniel - Gebragipfel
Note
Take the Gebraweg in the Pletzergraben to Almausschank Pletzer. From here it takes approx. 15 min to the valley and over a wide bridge ("Herrgottbrücke"). Take the left pathway to the Farmanger Grundalmen and further on to the Gebrakapelle. From here take the ascent on the right to the Gebrascharte and via the Gebraranken and along a steep incline to the peak.
Informations
Wanderbus innerhalb der Region - kostenlos mit der Gästekarte:

Nächste Bushaltestelle:

Fieberbrunn Aubad
Altitude profile
Refreshments
Alpine pasture "Pletzer"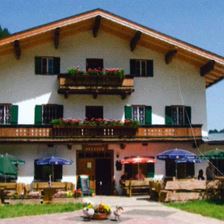 Show details