Blachholzkapelle - Enthgrieß - Hasslerschlucht
Note
From the village centre walk to the house "Brennerei Brandtner" (direction cable car station). Turn left there and walk via the Wiesenweg to the Blachholz Chapel and then further to the Genussladen Seibl (possibility to rest). From there you continue via the hamlet Reiterdörfl to the hamlet Mühltal and into the wild Haslerschlucht to the waterfall. Take the same way back to the Genussladen Seibl and via the walking path back to the village.
Read more
Informations
Free hiking bus within the region (guestcard)
Bus stop: Waidring Gemeindeamt
Public parking: centre / skilift Hausberg
Public toilet: next to the church / library
Altitude profile
Refreshments
Distillery Seibl - "Der Genussladen"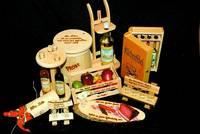 Show details