Oberlandhütte
Note
Family friendly retreat in beautiful nature. The cozy character of the cottage with lots of wood and two friendly guest rooms with a cozy tiled stove is still preserved today and is lovingly cared for by the Hüttenwirt.
Read more
InfoMay until October
WhereFalkensteinweg 356365 Kirchberg in Tirol
You can find us on these routes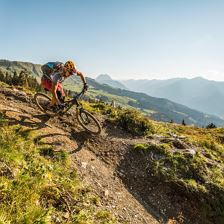 Duration5:00h

Distance53,0km

Elevation uphill2000m2532m

Highest1933m
Duration4:00h

Distance56,0km

Elevation uphill2000m2483m

Highest1933m
Total freedom - Out and about in a sea of Alpine roses!
Medium
Duration6:30h

Distance19,0km

Elevation uphill1050m900m

Highest1829m
Show details