Hirzeggalm
Note
Rustic mountain hut below the Spießnägel in Aschau
Read more
InfoOnly open in summer Open daily from 9.00
WhereGründau 86365 Kirchberg in Tirol
You can find us on these routes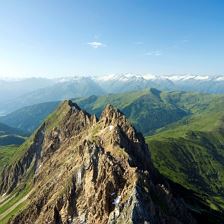 Am Gipfel des Großen Retteinstein hat man einen imposanten Ausblick auf die Hohen Tauern und ihren zahlreichen Dreitausendern.
Difficult
Duration8:00h

Distance18,5km

Elevation uphill1400m1400m

Highest2366m
Nature and adventure route - Unterer Grundr Grund
The hiking route is very suitable for families, easy to walk and for small children or even with a child's pushchair is possible without any problems. Lots of resting opportunities with benches and...
Easy
Duration3:00h

Distance12,0km

Elevation uphill611m618m

Highest1551m
If you love Alpine flowers and unspoiled nature then the Spießnägel tour is a "must"!
Medium
Duration5:30h

Distance16,4km

Elevation uphill900m900m

Highest1882m
Show details