Filzalmsee Hochbrixen
Note
With the Hochbrixen cable car it goes up to adventure. After about 5 minutes on foot you reach the Filzalmsee. Around the lake visitors will find numerous attractions on nature and water. A beautiful view is from the terraces of the surrounding huts.
Read more
WhereLiftweg 16364 Brixen im Thale
You can find us on these routes
Duration5:30h

Distance15,0km

Elevation uphill1250m1250m

Highest1829m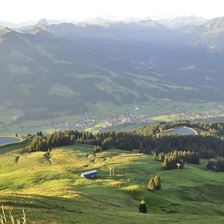 Duration5:00h

Distance13,5km

Elevation uphill400m300m

Highest1829m
A magnificent panoramic tour on the sunny side of Westendorf!
Medium
Duration5:00h

Distance17,3km

Elevation uphill1000m1000m

Highest1551m
Show details